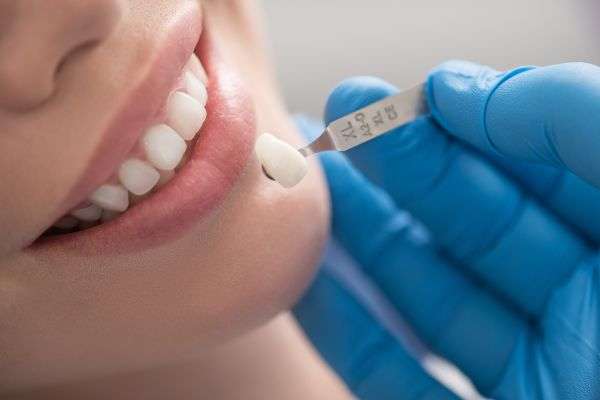 You have often heard about celebrities improving their smiles with dental veneers. There is no doubt that it is an effective way to get that picture-perfect smile. Dental veneers are thin porcelain that dentists use to replicate natural-looking teeth. In addition, veneers provide resilience and support to the natural truth, in a manner comparable to tooth enamel.
The convenient and innovative dental veneer treatment is a great option if you are looking to slightly alter the position of your teeth, or you want to change the size, shape or color of your teeth. Visiting your dentist and asking them about the pros and cons of veneers is your first step to determine whether it is the right option for you. Consulting your dentist is crucial to identify and accomplish your cosmetic improvement goals.
Whether your teeth are cracked, chipped, discolored or have gaps between them, your dentist may recommend you dental veneers to improve your smile. Here, we have enumerated four reasons to help you understand why veneers are recommended.
Why are veneers the better choice?
A good alternative to braces

In the past, getting braces was something new for people who had misaligned teeth. However, in the last few decades, dentistry has evolved and dental veneers are one of the examples of these advancements. There is no denying that veneers are a great cosmetic alternative to dental braces.

They are definitely a better solution to the problem of wearing braces for weeks and months. Dental veneers can be affixed within hours to help you straighten your misaligned teeth. However, consulting your dentist to discuss whether it is a viable option for your teeth gaps or misalignment is essential.

Cover staining

Bleaching is one way to lighten stained teeth, but it does not remove all stains. That means these tooth-whitening products are a temporary solution when it comes to removing stubborn stains. Additionally, as you age, these stains do not only permeate the enamel layer of your teeth, but also discolor the dentin inside the tooth. Veneers, in this regard, are an effective way to restore your pearly white smile.

Cover gaps, chips and cracks

Ceramic or porcelain veneers can cover small gaps, cracks or chipped enamel on and between teeth. This means getting a flawless smile with dental veneers is very easy.

Change the shape of your teeth

Damaged or uneven teeth are one of the common reasons people look for advanced dental treatments. Veneers are a great way to change the appearance of your teeth, including tooth shape. They can be easily placed over your front teeth to correct tooth alignment and appearance, making it an aesthetic solution to this problem.
Bottom line
Overall, dental veneers address many unsightly dental issues like cracked or chipped teeth. This advanced cosmetic treatment quickly fixes overlaps, minor twists, and small gaps in and between the teeth. Visit a dentist for an evaluation, so they can guide you about the best option for you. Talk to one of our dental health professionals today.
Looking for veneers near the 87109 area? Call Roderick A. Garcia, DMD PC at (505) 634-5029.
---
Related Posts
November 22, 2018
Dental veneers are very thin tooth-colored shells used to cover the front surface of your teeth to improve their appearance. The shells, which are made from porcelain or composite resin materials, are bonded to the …
---