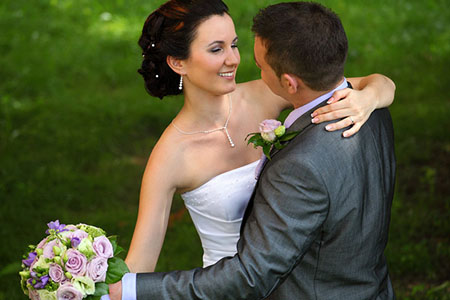 If you are getting married, consider scheduling an appointment for a teeth whitening procedure. Teeth whitening is a simple and easy way to improve your smile before the special day. Since a wedding is one of the most photographed events of a person's lifetime, having a smile that is bright and beautiful is an excellent way to ensure that the pictures will turn out as fabulous as one wants.
What will the procedure do for the appearance of my teeth?
Many patients want to know if the procedure will make a dramatic enough impact to warrant scheduling one. The answer is, yes. Teeth whitening is incredibly effective and will drastically improve the appearance of the teeth and a person's smile.
The procedure works in two ways. First, we can remove surface-level stains. This is important since certain food and beverages can stain teeth. We also recommend thorough teeth cleaning to remove the plaque and tartar that builds up on the teeth. This plaque can also cause them to look yellow or discolored. Combined with the teeth whitening procedure, these two steps can make a dramatic impact.
After we remove the surface level stains, the teeth whitening solution will penetrate the enamel and begin to whiten the teeth from the inside-out. This process happens due to oxidization. For it to take place, a professional teeth whitening solution is necessary.
OTC products
Over-the-counter products like teeth whitening strips and a whitening toothpaste generally only remove surface level stains. In fact, some OTC products do not even remove all of the surface level stains. This makes it wise to schedule an appointment for a professional teeth whitening prior to getting married.
Our solution
Patients who visit our office for a teeth cleaning see dramatic results because we use professional-grade dental whitening solution. Also, we offer a teeth whitening through the use of laser technology. This allows for the solution to work much faster and for nearly immediate results.
In fact, with our in-office treatment, patients can come in for an hour, have their teeth whitened and begin to see immediate results. For a bride or groom, the whitening process in our office can be done in as little as an hour, so it is possible to visit our clinic, have teeth whitened one or two times prior to the wedding and enjoy a beautiful, camera worthy smile for engagement photos, parties and the wedding day itself.
This means that pictures will look brighter and more beautiful and bride and groom will have the benefit of improved self-confidence. This is all possible by simply whitening teeth and improving a person's smile.
Learn more about your options
If you are getting married, we encourage you to schedule an appointment with our dental office to learn how we can improve the appearance and health of your smile. A teeth whitening procedure is one way that we do so and we are certain that by scheduling one, the results will blow you away.
---
Related Posts
May 15, 2018
Teeth whitening trays from a dentist are vastly superior to any supposed teeth whitening solutions available at the local store. Your dentist will take the time necessary to build a fully customized teeth whitening tray …
---